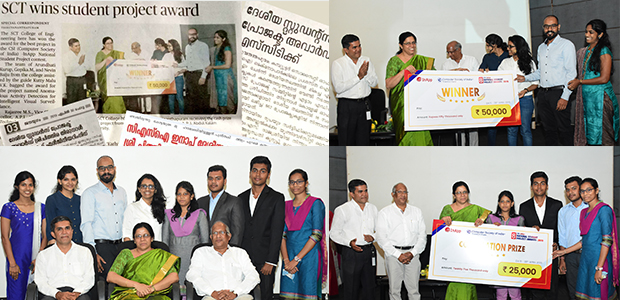 The 8th edition of the Computer Society of India (CSI) – InApp National Student Project Awards was hosted by InApp on April 28th at Technopark, Thiruvananthapuram. This year, the event witnessed the participation of students from across 16 states in India. We had a chance to interact with project teams who had their areas of interest on the latest technologies such as Blockchain, IoT, Deep Learning and so on. Dr. Rajasree M S, Vice Chancellor, APJ Abdul Kalam Technological University, Thiruvananthapuram honored the occasion as our Chief Guest.
Among the 662 project submissions, the team from SCT College of Engineering, Thiruvananthapuram, represented by Arundhati Kurup, Gopika.M, and Nevin Baiju & guided by Mrs. Kutty Malu VK was awarded the first prize, for their project Anomalous Activity Detection for Intelligent Visual Surveillance. Their proposed solution maximizes the reliability of a surveillance system with the help of Computer Vision & Deep Learning technology, which can instantly sense and report events that need attention to users in real time.
The consolation prize was awarded to the team from the National Institute of Science and Technology, Orissa for their project Air Sense. The team's project involved setting up environment-friendly IoT mobile units in different parts of a city, having a bidirectional communication with a central server that can enable real-time location-specific tracking of air quality & environmental hazards.