Apr 13, 2015: The Fourth CSI-InApp Software Project awards were distributed to the winners on 11 April 2015, at the occasion of the Annual General Body meeting of Computer Society of India (CSI) held at Hotel Classic Avenue, Thiruvananthapuram. The award which has been instituted jointly by the Computer Society of India (CSI), Trivandrum Chapter, and InApp is a distinguished recognition for excellence in student projects of engineering students.
The first prize of Rs. 50,000 with an award plaque was won by the team from Royal College of Engineering and Technology, Thrissur. The team won the award their work in building a virtual guiding system using speech and natural language processing. The team from Sree Chitra Thirunal College of Engineering, Thiruvananthapuram, won the second prize of Rs.25,000 for their automated traffic signal software. The winners were shortlisted after a two stage evaluation process from entries across engineering colleges in Kerala.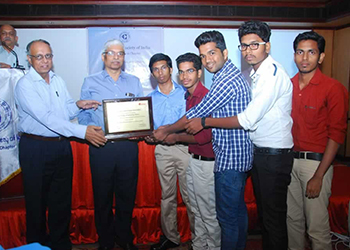 Speaking at the event, Mr. Amaranath Raja, CEO, InApp, said, "InApp is committed to develop talent in local engineering colleges. We plan to implement this by recognizing exceptional students who demonstrate innovation and exceptional talent. We are confident that this will inspire excellence amongst the entire student community, which is a need today".
The awards were presented by Mr. Satish Babu, President of InApp (on sabbatical ) and currently the Director of ICFOSS. He is also a Fellow & Past National President of CSI.
Congratulating the winners, Satish said that such recognitions were a motivation for budding engineers to develop solutions to common problems in the society. He also said that such partnerships between the IT Industry and professional associations was important for the long-term development of the IT Industry, and therefore, should be fostered.