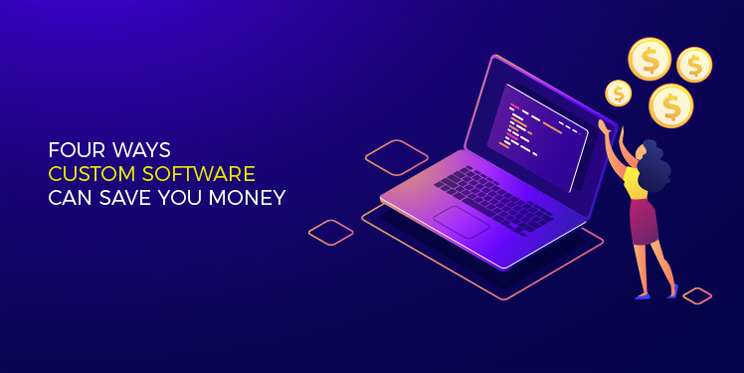 Investment in customized software may seem like an unnecessary expense. Companies resort to off-the-shelf solutions lured by their lower initial cost.
But over its lifetime, custom software development costs less. That's because the cost-effectiveness of custom software is realized in the long term.
Here are 4 ways custom software development can save you money:
Long-term Investment
Even though the initial investment in custom software development may seem relatively higher, you save costs on licensing, upgrades, and user fees that generally accompany off-the-shelf software. These are high, recurring costs.
While the cost of off-the-shelf software is comparatively lower initially because of the economy of scale, it comes with some redundant features and may not work exactly the way you need it to. Custom software will have only the features that are useful to you. With custom software, you'll be in complete control of your license, development process, features, and functions.
Here are 9 tips to make your Custom Software Development Project a Success
More Familiarity and Less Training Cost
Because you'll be involved from the start, you can develop your custom software to make it easier and less expensive to train your staff to use it. Learning off-the-shelf software takes time and costs money, often requiring formal training classes. That also diverts the attention of your employees from your core business activities.
High Business Efficiency and Productivity 
Custom software development streamlines your business process through automation, which in turn leads to higher employee productivity and lower labor costs.  Also, you'll have flexibility in regard to maintenance and support because you have full ownership and control. That ensures a timely response to issues that come up in the process.
As custom software development is completely personalized to your business needs, it brings in benefits that outweigh your initial investment. Software designed specifically for your customers helps them stay connected and loyal to your product and business.
Legal Compliance
If you are handling data from pharmacists, healthcare providers, or insurance companies, you must be extremely careful about protecting the privacy of patients. As it's more vulnerable to hacking, off-the-shelf software presents more risks than custom software. A system that is designed for your specific business model is safer.
In summary, custom software development may look a little costly initially. But, custom software can save you money in the long term by exclusively focusing on your business requirements and enhancing your capabilities. And that will provide you with a competitive advantage over your rivals in the long run.
If you have any questions, contact us.