What is the meaning of Airavata?
Airavata is a mythological white elephant that carries the Hindu god Indra. It is also called 'abhra-Matanga', meaning "Elephant of the Clouds" (http://en.wikipedia.org/wiki/Airavata)
What is Apache Airavata?
Apache Airavata is a software framework for executing and managing computational jobs and workflows on distributed computing resources including local clusters, supercomputers, national grids, and academic and commercial clouds.
Airavata has the capability of composing, managing, executing, and monitoring a variety of distributed applications and workflows that runs on computational resources. Concepts of service-oriented computing, distributed messaging, workflow composition, and orchestration provide the foundation for Airavata. You can visit the official website of Apace Airavata at https://airavata.apache.org/
What are the Features of Apache Airavata?
Desktop tools and browser-based web interface components for managing applications, workflows, and generated data.
Sophisticated server-side tools for registering and managing scientific applications on computational resources.
Graphical user interfaces to construct, execute, control, manage, and reuse scientific workflows.
Interfacing and interoperability with various external (third party) data, workflow, and provenance management tools.
Airavata Architecture
The architecture is designed to be a modular, componentized software framework as illustrated in the following Figure.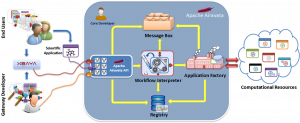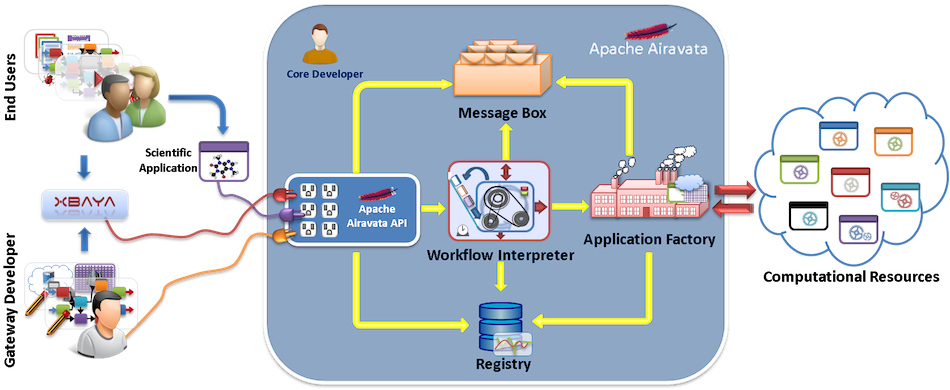 The goal of the Airavata framework is minimalist architectural design (i.e., a thin layer), a conceptually simple to understand architecture; and easier to install, maintain and use.
Have questions? Contact the technology experts at InApp to learn more.